Have you given birth and you want to have beautiful pictures of your baby by having him do a photo shoot?
Or has a loved one just had a baby and you want to give her a good baby photo shoot gift?
Photographing a baby is something special because you have to know how to adapt to your rhythm, know how to handle it and watch for your every move in order to be ready to take your every move and to be able to bring out the most beautiful photos.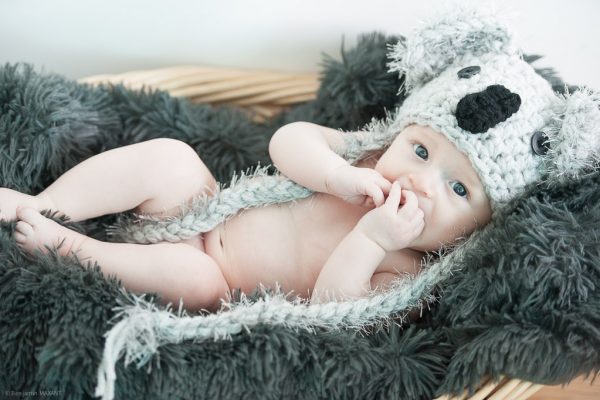 Being the father of two beautiful 5- and 2-year-old daughters, which allows me to anticipate most of the time the reactions of babies and know how to take the pictures.
Most of the time I come straight to your home with my shooting and lighting equipment as well as a set of small caps and accessories for the funny side.
The photo session lasts about two hours, no more, because you have to take your time but know how to be effective otherwise it tires your baby and the session should be complicated.
It's always nice to have pictures of your baby resting than to smile and react to your voice or toys./toys.
Photo gallery on baby photo shoots
Would you like to do or offer a baby photo shoot?
The baby photo shoot can therefore take place outdoors (park, garden, beach, forest, …) or directly at home.
I bring of course what it takes in terms of photographic equipment than in terms of accessories (funny wool outfits, soft blankets, wicker basket, …). The
photo shoot lasts between 1:30 and 2 hours maximum to avoid fatigue. The
breaks with a hug or hug are obviously to be expected because the most important thing is that your baby feels as comfortable as possible (and yes he will receive even more attention during these 2
hours!) Below are the offers for baby photo shoots either as a simple purchase or as a gift to give to your loved ones!
Price of a baby photo shoot
Here are the various offers for baby photo shoots:
---
The latest reviews from my clients
Adaptability
Benjamin is very professional, he spoke at our annual conference for a whole day.
He adapted well to the place, to the speakers and to our requests.
Thank you and see you soon with the CoDES 04!
CoDES 04
01/17/2023
Corporate
Pro and available
We called on Benjamin to create content as part of a business project.
The content produced is very beautiful, we are delighted with the work!
Professional and available, we refer to Benjamin for sure.
I can only recommend him!
M. B.
06/17/2022
Corporate
A very professional photographer
Photographer very pro, very nice with a quality of extra work.
Thierry D
12/10/2019
Photo shoot
Professional and very kind
Professionalism and unfailing kindness.
Thank you Benjamin for being the photographer that you are!
Caroline S
12/10/2019
Photo shoot
---
Looking for a Baby/New Born Photographer to do a baby photo shoot?